Search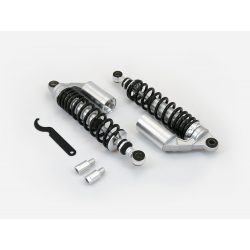 TecBike LOWERING Alloy Gas Shocks – Royal Enfield Interceptor 650 & Continental GT 650 – 15 x Way Adjustable Damping/Adjustable length feature
TEC LOWERING All alloy rear gas piggyback shocks with adjustable damping to fit Royal Enfield Interceptor 650 & Continental GT 650.
Silver (clear alloy) body with Black springs
The shocks feature:
A lot of customers find the seat height on the new RE twins a little high. These lowering shocks allow the seat height to be dropped by a max of 2 inches.
Our triple rate progressive springs.
They are adjustable in length from 335mm to 347mm between centres and can lower the seat by a maximum of 2 inches.
15 way adjustable 'click' rebound damping.
Built to order with springs to suit the rider weight. Please advise rider or pillion weight when ordering. Or springs will be supplied for average weight rider. If you have any questions just ask.
The design is much cleaner than the original shocks provided on the bike, which are a bit rounded and chunky in our opinion.
Provides better damping performance and are lighter than the original units.
Shocks are supplied ready to fit will all necessary fittings and adjustment spanner included.
Supplied with detailed written instructions.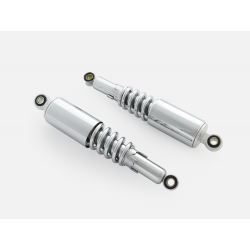 TecBike Shrouded LOWERING Shocks - Royal Enfield Meteor 350 / Classic 350
We have been asked a lot by riders if we can lower the seat height on the Meteor and 'New'Classic 350 models. Although the style of the bikes looks low slung the seat height is higher than it looks.
These LOWERING shocks are 300mm between centers.
These will reduce the seat height approximately these will reduce seat height by 25-30mm depending on rider weight.
The front can also be lowered by a similar amount to match by sliding the fork tubes up through the yokes.
Can also be lowered more by fitting the option low seat.
Progressive chrome springs with long chromed steel top cover
5 way adjustable
300mm between centres
Adjusting "C" spanner also included
Full instructions included
We supply 8 spacer washers with the shocks, you must fit 2 washers between each shock and mounting point As RE are using none standard 25mm wide mounts.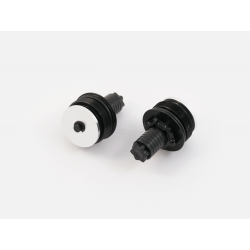 TecBike Fork top pre-load adjusters for Royal Enfield 41mm Forks
TEC CNC Fork top pre load adjusters-
This pair of fork top adjusters will fit straight on to a Continental GT 650/535. They will ONLY fit the Interceptor 650 if you use bar risers, they will NOT fit the Interceptor 650 with the standard bar set up.
These adjusters are made by us and are anodised in black to be extremely durable.
Allows extra adjustment of your front end to get it exactly how you like it.